About Sirinadesigns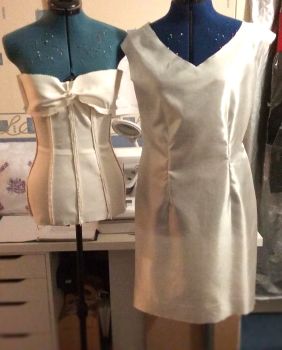 All Sirinadesigns dresses are designed and handmade by
owner Kelly Griffiths in her home studio located in Bristol UK.
Kelly has 15 years experience sewing everything from
chair covers to peg bags but specialises in dressmaking.
Kelly has NVQ's in Art & Design and pattern cutting.
This means she is able to design and make garments that
will be perfect for you.
Sirinadesigns has been in my mind for a long time but
was finally set up in January 2010 after a personal tradegy which inspired years of dreaming and
talking to be turned into actions and the birth of Sirinadesigns.
I learnt to sew when I was a little girl at the age of about 7 years old and have been sewing ever since.
I was introduced to sewing by my nan, who was a seamstress her whole working life and learnt so
much from her along with my formal qualifications
I fell in love with the items I could make from a flat piece of fabric and some buttons/trim.
This love has stayed with me my whole life and I am now looking at using that love to
make everybody that special outfit so thy can feel amazing on the day.
Sirinadesigns wants to make buying your special occasion dress as stress free and fun for you as possible.
This is a special time and so choosing and then wearing the correct outfit should bring special memories to mind.
Contact Kelly now if you would like to work with her to create your perfect dress
Thank you for visiting my site.
Kelly
google-site-verification: google1d305455c2672808.html