T&C's and FAQ's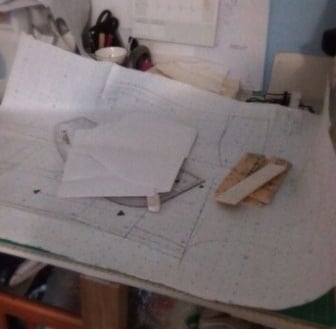 If you have a question about Sirinadesigns please read below.
If your question is still not answered then please contact me using
the Contact Us page.
Please click HERE for Sirinadesigns terms and conditions

How do I order the dressmaking service?
Contact Sirinadesigns and we will arrange for a no obligation
free of charge consultation to take place.

How long will it take to custom make my dress?
This will depend on the complexity and design of the dress.
I like to start work on the dress at least 5 - 6 months before the event.
I aim to finish the work 2/3 weeks before the event.
Can I take photographs during fittings?
To protect the custom designs by Sirinadesigns we do not permit photographs of any type until
the dress has been commisioned and made up in the final fabric.
Once the dress is made in the final fabric you are free to take as many photos as you like
Can I bring people with me to the appointments?
You are welcome to bring upto 3 people to your appointments but please no children due to the fabrics and machinary in the area.
Can you do rush orders?
If you require a dress in a short time frame please contact me and I will try to accommodate
you depending on my diary and commitments at the time.
Please be aware this will incur additional costs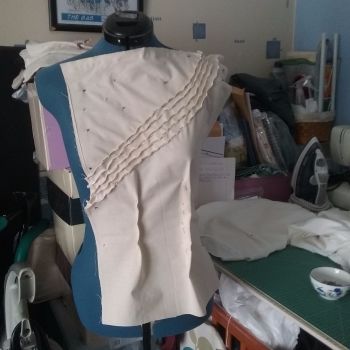 How much can I expect to pay for a bespoke dress?
Prices at Sirinadesigns vary depending on the complexity of the design.
A rough estimate will be given at the 1st consultation (these will be based on past dresses and will be a rough guide only)
Once the final design, fabric and embellishments (lace,beading,etc) have been decided Kelly will work out a fixed price.
How can I pay for my order?
Payments are made by cash or paypal prior to or at your final fitting
Payment plans are available - just ask during your consultation
Can I cancel my order?
Sirinadesigns is happy to accept cancellations for any order as long as work has not begun.
Please see terms and conditions for further information.
Can I return my order?
Custom made items are non returnable unless faulty.
How are my items posted?
All orders are to be collected in person from my studio in Bristol at your final fitting.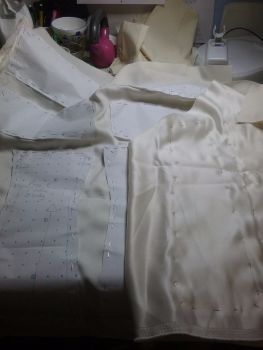 Cookies
This website sets strictly necessary cookies. These cookies are essential in order to enable you to move around the website and use its features, such as accessing secure areas of the website. Without these cookies services you have asked for, like shopping baskets or e-billing, cannot be provided.
This website sets performance cookies. These cookies collect information about how visitors use a website, for instance which pages visitors go to most often, and if they get error messages from web pages. These cookies don't collect information that identifies a visitor. All information these cookies collect is aggregated and therefore anonymous. It is only used to improve how a website work

This website sets targeting cookies. These cookies are used to deliver adverts more relevant to you and your interests. They are also used to limit the number of times you see an advertisement as well as help measure the effectiveness of the advertising campaign. They are usually placed by advertising networks with the website operator's permission. They remember that you have visited a website and this information is shared with other organisations such as advertisers. Quite often targeting or advertising cookies will be linked to site functionality provided by the other organisation.